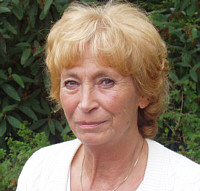 Impossible to operate deadly tumour in the lung
but Hugo`s needles could have finished it off.
Next week fifty-nine year old Irene Jensen, Koege, Denmark, and her husband go on a trip to the Rhine to celebrate that Irene`s death sentence six months ago has been annulled. It happened when a doctor at the hospital last week told her: "The tumour is totally gone!"
It was in 2003!