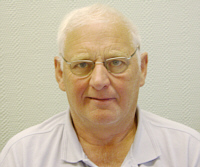 Seventy-year-old Hans Peter Andersen, Vejrup near Bramminge, Denmark, had gradually got a tiresome tinnitus but he had thought that there was nothing to be done about it.
Text: Bodil Moes
For some time he had taken his wife to The Hugo Nielsen Institute in Gram where she with parallel acupuncture was treated for a brain tumour after she with no success several times had undergone surgery.
"Down at Gram we one day talked about my tinnitus and if it might be possible also to help me with the needles," says Hans Peter Andersen. "At first things got worse but after two to three treatments there were days where there was no tinnitus. After six to eight treatments I only go there at intervals of seven weeks and my tinnitus has not returned."
"It was lucky for me that I had the good experience with my wife. When she first came to Hugo Nielsen she was so ill that she was unable to do anything. In her case it took some time before a distinct change was seen.
The tumour is not gone but with the parallel acupuncture it is kept calm and my wife is very well. I shall also mention that we both use the Cell Com apparatus twice every day," Hans Peter Andersen ends his report.
Hans Peter Andersen
Vejrup, August 28th, 2008