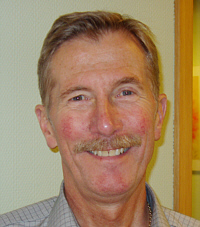 Fourteen months ago I was incurably ill with leukaemia – now I exercise!
Jens Amby Jensen, Hee near Ringkoebing, Denmark, was lucky when he heard about two cancer-patients who seven years ago were told that they had only three months left, for in this way he was aware of parallel-acupuncture.
Text: Bodil Moes
In a longdistance-regatta in 1992 Jens Amby Jensen sensed a fatigue that he had never known before. During the big physical challenge it felt as if he hit a wall.
"I had stopped boat-race in the top class but now I also had to drop all boat-racing," he says. In the following years I got several disabilities. My hair felt "dead", I had some sort of absences, swollen throat, stomach-ache, pains in the liver- andre kidney-regions, itching, bleeding mucous membranes from the nose, often influenza-like symptoms, a fungal infection in nails and skin, indisposition, sensitiveness to cold and still this fatigue. I didn´t feel like doing anything."
Diagnosis: A form of leukaemia which they could not cure
"Of course I went to the doctor where I was examined without any results. Bloodtests in 2000 suddenly showed that something was wrong and among other things I had my bone marrow tested. April 4th, 2001, I finally got the diagnosis, Valenstroem´s Disease, and I was told that this form of leukaemia is incurably. Most of my many symptoms had been a result of the leukaemia. Now they would give me a "mild" form of chemotherapy – pills – and they told me to take it easy as I might live for many years with this illness. I had, however, to realize that it might suddenly become aggressive and then they could not promise me anything. I had this chemo four times and felt very sick. It was as if I was fed with rat poison and after surviving had to try again."
Two cancer-patients who both survived a death sentence
After Jens Amby Jensen had had two chemo-treatments a friend told him that his father and his aunt seven years ago simultaneously had got cancer and had both been given up by the doctors. After one to two years treatment at The Hugo Nielsen Institute they lived in perfect health and had got a final certificate from the doctors
even if they seven years ago were told that they had only three months left."
"Of course I became very curious, and after I had visited my friend´s father I decided to go to Hugo Nielsen in Gram. My first meeting with him was rather breath-taking because of his enormous knowledge of the functioning of the body. He told me about parallel-acupuncture and Cell Com and I didn´t hesitate, for I had nothing to lose."
The doctor thought that I lived under a lucky star
"After the first acupuncture-treatment I felt an obvious improvement of my condition
and I told the dismayed doctors that I wanted no more chemotherapy. I also told them about the alternative treatment I had chosen and was then strongly advised again doing this. Fortunately I didn´t follow their advice for after a few treatments with parallel-acupuncture my disabilities vanished one by one and my life did not anymore lack inspiration. Also the problems with my blood were improved as soon as I started with parallel-acupuncture.
"One of the new doctors I met at the hospital then mentioned the good effect of my four chemo-rreatments. I immediately protested and told him that there had been no change before I went to Hugo Nielsen. He chose to ignore this. Instead he thought as he expressed it that "I lived under a lucky star". When I next came to the hospital I gave him some literature about Hugo Nielsen´s work and asked him to read it. I certainly hope he did."
A tough program with plenty of go
Jens Amby Jensen still lives with a rest of his illness but his general condition has – as an added bonus of the treatment – improved so much that he is again able to exercise. "When I first started at an oncological department I asked a doctor if I would ever be able to perform the physical activity and exercise of which I was so fond and her facial expression was a clear answer. I am today the proof that she was not right."
"My weekly program fourteen months after I had the diagnosis leukaemia is 2-3 times in a center with 20 minutes running and 9 kilometres in the rowing-machine,
a tough program with plenty of go followed by swimming. I also run two times weekly on an ordinary road – about 30 minutes each time – and row one ore two evenings.
"I clearly realize that I owe my regained life to the parallel-acupunture and I intend to go on with the treatment. I dare not stop for today I feel fit even if I fourteen months ago had the diagnosis "incurably ill" and I now only have a security-check three times yearly."
Tage obeyed the doctors´ warning – and he died
Jens Amby Jensen is overcome by both grief and anger living in a country where the public system , as he says, close their eyes to a treatment which helps really ill people. A tragic example is his friend, Tage, who too willingly accepted the authority of doctors.
"Tage also had leukaemia and at the end of last summer he started to follow me to Gram. Immediately after a few treatments he was again able to go for a stroll, he got back his lost appetite and started to put on weight. I must remember to say that Tage also had cancer in his bones and was so ill that he was almost unable to do anything when he first came to Hugo Nielsen. After about a month with a weekly treatment the cancer in his bones was gone.
"At Christmas-time Tage´s white blood corpuscles changed and he was summoned by two doctors for an interview. They told him that if he did not immediately get chemo again and stopped the acupuncture-treatment he would die. Tage was scared and didn´t have the courage not to obey the doctors` warning. He quickly worsened and at last we knew that he would die if we didn´t act. I almost carried Tage to Hugo Nielsen again and we had to be several men to get him up the staircases of he clinic.
After the first treatment Tage felt that his health had improved but when you are so ill that you are unable to walk more than a few treatments are needed.
Tage only had three treatments before he got the flu, was sent to hospital and a week later died. The chemotherapy had destroyed his immune system and he died from pneumonia.
If I had been just as ready to accept the authority of doctors it might have been me who had not survived a pneumonia. Today I feel that I can manage everything but I miss my good friend Tage."
Hee, Ringkoebing, Denmark
May 26th, 2002