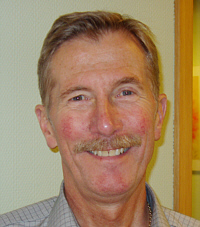 Several years after the diagnosis Jens keeps his incurable type of leukaemia in check with an every two weeks "service"
More than five years ago Jens Amby Jensen, Stadil, Denmark, had the diagnosis Valenstroem`s Disease, an incurable type of leukaemia. Yet the last check-up at the hospital in Holstebro revealed that his blood was better than ever.
Text: Bodil Moes
In May 2002 Jens Amby Jensen told me that he then – fourteen months after the serious diagnosis – Exercised in a centre and had made up his mind not to stop the parallel-acupuncture treatment that had revived his old energy.
"It is not good to stay away from Hugo Nielsen too long," he pointed out when I yesterday phoned him to ask if he was doing fine at an old farm which he had bought because he didn't find in a small garden an outlet for his energy when it returned in full scale.
My wife's illness Knocked me out
Jens Amby Jensen had, however, a down trip when his wife started to become well after a heavy depression. "I was so hardly hit that I lost fourteen kilos and suffered from anorexia. Still my wife and I went on a six weeks drive to Eastern Europe.
When we came back things was not so well and for once I had to get blood! Soon I became better and I have really experienced some good changes in body as well as mind. Also my energy has risen to a much higher level than four years ago when I exercised in a centre. I have a check-up at the hospital every second month and since October-November my blood has become better – last time better than ever!"
From the beginning I went to Hugo Nielsen three times monthly but have reduced it to every fortnight. I am really well and if somebody asks me I warn them from believing that five or six weeks are enough. It is a long way to drive and it costs some money. But is life not of so great value that you are willing to pay to survive?"
"When my wife found a chiropodist to her old aunt she found that it cost 300 kroner – precisely what I pay for a treatment that up to now has kept me alive and in good form for more than five years!"
Instruments were inaccurate
"The doctors are not eager to speak of the results I have achieved with parallel-acupuncture and Cell Com. For instance one doctor said that I should not take it for granted that the progress at every check-up was 0,2 as the measuring instruments always had a certain inaccuracy."
"At home I use my Cell Com apparatus on the to essential foot points 12 and 4 and also on a point on my thumbs and one on my legs which according to Hugo's daughter, the acupuncturist Lone, increases the production of the red blood corpuscles – exactly what the check-ups at the hospital confirm!" Jens Amby Jensen ends his report.
Stadil, Denmark
August 8th, 2006