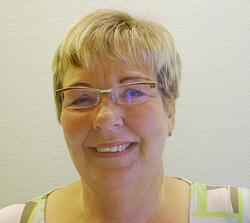 With parallel acupuncture free of morphine after a the third surgery for an disc prolapsed
Journalist Bodil Moes
Translate Hugo Nielsen
59-year-old Johanne Christensen is married to Leif Christensen, who went to the Institute in Gram, with his chronic lymphocytes leukaemia and it was him who asked whether there might also do something for his wife, who three times had surgery for slipped disc.
"I was surgery for slipped disc in 1997 and again in 1998 and it was not quite good," says Johanne Christensen.
"In 2002, they have to surgery again, because my left leg was to be paralysed. It was fifty-fifty, how it would go, the surgery actually succeeded. I was better to settle a time, but I had some terrible pain in the back.
"I get at that time very much of morphine and had to retire from a job that I was very pleased. My husband asked Hugo Nielsen, if he could do something about my pain, and would he try. The first time with the parallel acupuncture he was restores other things in the body, and it took some time.
After three months I could however escape morphine and has not since taken it. I have as many restrictions on their backs and there are many things that can get it to do evil. On the other hand, it must not be the spine that controls me, but me to controls the back, and when I want to dance, I do I! This has means that we have had an extra trip to Hugo."
Johanne Christensen finishes her report to tell about the profound gratitude, she feels about no longer having the morphine, "which attaches itself as a quilt".
Johanne Christensen was pleased when Leif has the control at the hospital where a doctor said "Get finally by" when we told that he went to parallel acupuncture. She hopes that other patients have knowledge of this additional opportunity for help.
I have seen and approved the above interview.
Esbjerg, 12. July 2008