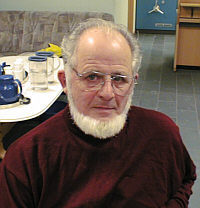 NOTE: Diabetes-scientists should read this interview
When the blood sugar "went crazy" Cell Com normalized it with the help of a single daily treatment.
When I four years ago interviewed Finn Sorensen – the patient with the best regulated diabetes at the hospital ambulatory in Esbjerg, Denmark – he was treated with needles by Hugo Nielsen, Gram, but as he also used insulin he was not allowed to treat himself with the family's Cell Com apparatus.
Text: Bodil Moes
In 1979 the now sixty-four-years old gardener Finn Sorensen, Varde, Denmark, read about the many people who had been helped by Hugo Nielsen, Gram, and he decided to let the acupuncturist look at his serious diabetes which had been diagnosed when he was twenty-eight years old. "Parallel-acupuncture – first once a week and later once a month – has meant that I for thirty-six years has had a diabetes without complications and has not stopped working until my sixty years birthday," he tells.
Using Cell Com at 5 p.m. solved my problem
"In May 2002 my blood sugar started to fluctuate, and something must be wrong when I could no longer control it. I began to measure my blood sugar four times a day, morning, noon, afternoon and just before bedtime, and my measuring showed that I one moment had to take four units of insulin and the next moment 10 units! At my monthly visit to the clinic I poured out my troubles to Hugo Nielsen , and he said: "Then we must try Cell Com but you must only use the points 12+12 and 13+13 on your feet and only at 5 p.m. – one hour before your supper. I did as I was told, and what happened? Suddenly my blood sugar became quite normal also in the evening, and when I some time ago for an short period forgot to use Cell Com the figures went up again!"
The average over three months was normal
Recently I had a check-up at the hospital on a Tuesday where they found that my average-figures three months back were 6,5, and that is within the normal sector which is five to seven. On Wednesday I went to my monthly treatment at the clinic in Gram and here the biochemist Knud Engel, Odense, together with Hugo Nielsen studied my blood sugar figures with great interest."
"I think it is sad that the public health authorities are apparently not interested in the results Hugo Nielsen has shown with cancer. Maybe diabetes-scientists will also ignore the possibilities of Cell Com to stabilize the blood sugar for the many patients with old man's diabetes and in a special case like mine where insulin is used. A lot of research is carried out but as far as I can see nothing has happened expect that medicine has become more and more expensive."
In only one week Cell Com took the place of morphine
Finn Sorensen wishes to finish his statement by telling, how he in 1998 could feel that the doctors at the ambulatory had read his story in Acu-News. "I worked as gardener at the hospital, so we knew and were good at getting on with each other. Now they seemed more reserved. Unfortunately it is often difficult to convince people that parallel-acupuncture and Cell Com might help them. Recently it was my brother-in-law who got leukemia but with needles and Cell Com he is getting well. My sister-in-law has three times been operated on because of a slipped disk. She is a nurse and she didn't feel up to trying Cell Com. Then I suggested that when she had treated her husband she should let him treat her! After only one week she had no need for morphine. Imagine how much money the Danish society could save if the public health service were interested in Hugo Nielsen's results."
Varde, Denmark
December 21st, 2002