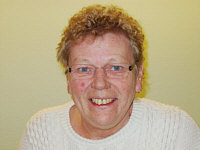 "The day in April 2007 when I for the first time came to Gram, I almost crawled into the clinic, and when I got up on the couch I was unable to turn.
I remember that laying on the couch I looked at Lone Nielsen and thought:
"You will not be able to help me, my dear!" says sixty year old Petra Knudsen, Tyregod, Denmark.
Text: Bodil Moes
"It was my brother-in-law who asked me to read Acu-News. Here among other things was an article about arthritis and Parallelacupuncture. It could not do any harm to try but I would be surprised if it might help me so miserable I was.
"It was tough already at an age of forty-three to have to quit my job as a nursing auxiliary because I have problem with my perineum probably after too many heavy lifts.
I always also had other pains in my body but I wat not until I in 1993 came to a rheumatic hospital that the doctors found that I had Rheumatoid psoriasis which the consultant thought that I had always had.
"Later something happened that really scared me. I was not able to feel my rigtht leg – could not feel when I put my foot on the floor, and I had to try if it could support me. Sometimes the leg gave way under me and I never knew when it was going to happen.
Last winter I was so miserable that I did not believe that I should live another winter. That I took my brother-in-law`s advice and went to The Hugo Nielsen Institute has, however, made this winter gorgeous!"
You have to experience it to believe it!
"Once a week my husband drives me to Gram. It takes an hour and a half but he does it gladly because he has seen the results. A lot happened in my body and there have been sheer "miracles".
My leg does not give way under me and I do not place my weight on the "walking rollator" but carry it myself! It means that I shall again be able to take a walk without my rollator!
"While I have been treated with parallelacupuncture I have not been to my ear specialist as I did before beacause of abscesses, eczema and fungal infection in my ears. Neither have I needed a new haemorrhoids operation as the big one I had has now disappeared. Something has also happened to my knuckles where the skin looked like psoriasis-eczema. Whatever it was there is only a small rest on two of the knuckles.
"Another surprise is that the colitis I have suffered from since I was ten years old also is a closed chapter. Now I can eat everything, even cheese and spices."
A joy to stand and peel potatoes
"Another pleasure. I was unable to knit and now I can knit a whole sweater. I often think if it really can be possible inside to feel like an athlete after your body has become free of its waste products. Just before you phoned me I stood peeling potatoes and vegetables without fearing that my leg suddenly would give way under me.
I live in a world of wonder because of all that physically as well as mentally has happened since I got the first needles in my feet. Gradually I felt discarded by the doctors as too old and not worth while doing anything for.
I am happy that I overcame my scepticisme and went to Gram, and the weekly trip my husband and I shall continue until Lone Nielsen thinks that a stepping-down to every fortnight and later maybe a month is all right," Petra Knudsen ends her report.
Tyregod, Denmark
January 23rd, 2008