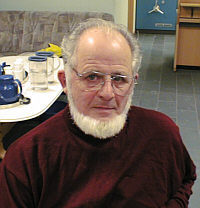 At the outpatient department they have told Finn Sorensen, Esbjerg, Denmark, that he is the one whose diabetes is best regulated.

The explanation he has kept to himself – that he for 19 years has got an acupuncture treatment every month at The Hugo Nielsen Institute in Gram.
– It really gave me a lift when I recently at the acupuncture clinic happened to lie by the side of a young doctor who had had a brain tumor and had been given up by the traditional health system, he says.
– He told me that Hugo Nielsen had helped him and that there was nothing left of the tumor. And listening to him made it easier for me to come out with my own experiences.
Text: Journalist Bodil Moes
When Finn Sorensen was 28 years old, he had started his own market garden. At the same time he got the diagnosis diabetes and his doctor told him: "Now you leave off working – or you shall die!"
– It is hard to be self-employed and from that day I started to work for other people, the last 27 years before I retired as gardener at the hospital in Esbjerg.
People dare not tell about alternative treatment
– My wife and I have always been very interested in alternative treatment – also before I got diabetes. I 1979 I read a lot of articles in a weekly magazine about people who had been helped by Hugo Nielsen, Gram. When I first visited him he still had clinic in his sitting-room where we came in two at a time and got treatment.
– Of course I was skeptic but Hugo didn't care if we believed in the treatment or not. It also turned out that it spared me from having the serious complications that go with diabetes.
– Today when I have a treatment I relax completely and feel good for a whole month. At the outpatient department they have said: "When you die you ought to be mummified and placed in the hospital vestibule for you are the one whose diabetes has been best regulated!" I should have told them long ago that I not only get insulin but also a special type of acupuncture
– The Hugo Nielsen System. I guess that I like most other people have not had the courage to tell them about an alternative treatment. People are scared that they may be struck by the doctors' anger. "We may need them one day," they say, "and so it is better to shut up."
A young doctor who has something to explain
– I know that diabetes I shall have as long as I live, but as I have been spared the complications I am well and enjoy life as pensioner. Three times a year I go to the outpatient department where they test cholesterol, liver and kidney. This is on offer from the public health service which I value.
– Here the figures tell me how my condition is, and this is not possible at the clinic in Gram as Hugo Nielsen has no laboratory.
– It is my sincere wish that the public and the alternative system will start to co-operate in stead of fight each other.
– It was a very special event when I recently at the clinic in Gram happened to lie by the side of a young doctor who had had a brain tumor which the traditional health system could do nothing about. He told me that – after Hugo Nielsen's treatments – there was nothing left of the tumor.
– Then I said: "Here I lie, Finn from Esbjerg, at the side of a doctor at a quack's place!" The young doctor admitted that he had used the word quack up to 1997 but that he didn't dream of using it anymore.
– You have really an explanation problem when you will have to tell your colleagues what has taken place here in Gram! I said to him. At the same time I felt that it had given me a lift to meet a doctor who also had to acknowledge the results of Hugo Nielsen's treatments.
I cannot use Cell Com but my family do
Finn Sorensen was very interested in the Cell Com apparatus but Hugo Nielsen had to tell him that it could not be used by diabetics.
– On the other hand my family has a lot of pleasure out of Cell Com, he says. – We have four grandchildren who all have asthma and when an attack is on its way my daughter uses Cell Com with a good result every time.
Esbjerg, September 4th, 1998