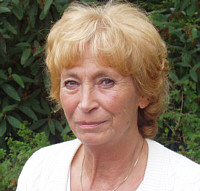 When I in September 2003 for the first time interviewed Irene Jensen she and her husband, John, was planning a trip to the Rhine to celebrate that her death sentence half a year ago had been annulled.

Now in 2009 they have chosen a Norwegian cruise before one more check-up at the hospital in Roskilde.
Text: Journalist Bodil Moes
This check-up on June 19th 2009 confirmed that there was no cancer, and the consultant told Irene how unbelievably far she had come.
An amazingly active life
Irene and John Jensen moved in 2006 from a big house to a small one in Faxe Ladeplads, Sealand. "We are very active," Irene says.
"We go to fitness three times a week, play golf three to four times and go to bowling two or three times. As ill as I was six years ago the thought often has crossed my mind how amazing it is that I am able to be so active!"
"It was my luck that I went to Gram shortly after the doctors had found an incurable lung cancer – contrary to those who wait too long or do not come, maybe because the transport is expensive or their partner is not able to take a day off and accompany them.
"I believe that I have a power of abstraction when it comes to serious matters and when the doctors gave me one percent chance to survive I thought that it could not be true. At the same time I had the luck in the local paper to read about Hugo Nielsen. That was why I decided to get parallel-acupuncture."
My husband's good "side effects"
"Although we are busy with so mange activities we go – with intervals of four or five months – to Gram. And of course I still use my Cell Com apparatus every day my husband is also indebted to Hugo Nielsen."
"When he was treated with parallel- acupuncture he did not only get rid of his migraine. Also his tinnitus disappeared and he who for some reason could no longer stand to drink beer was again able to do it."
""It is a good thing that I have a positive attitude, and as I think you shall be kind to yourself I had no doubt about going to Gram after I had read about Hugo Nielsen in the local paper.
I have been in contact with several people who went to Gram and later told me that they also had been helped. I wish that the patients who are sent home to die all were offered the same chance but hopefully it will soon be the case.
Fakse Ladeplads, Denmark
June 22nd, 2009