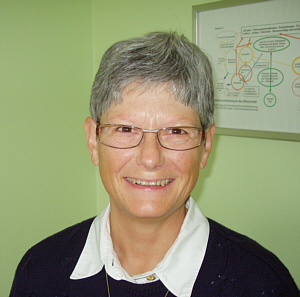 Elke Sommer, Bremen:
In June 2007 there were over a Coloscopia – a colon tumour diagnosed.
In June 2007 there were over a Coloscopia – a colon tumour diagnosed. And because the tumour was sitting in the colon transverses, was a Colon resection with systematic Lymph Adenectomia (removal of lymph nodes pT3pM2) / 9 29) completed. The operation occurred four days after the initial investigation.
Translation Hugo Nielsen
When I was in my training for MTA (medical technical assistant in X-ray, laboratory and cytology) and the birth of our 3rd the child I could no longer work and I have trained me in Chinese medicine. I have a couple of years involved with Acupressure, Acupuncture and Tuina. Then I found Jinshin Jyutsu, a Japanese method of healing with some energy points, which are controlling various biological processes. So for me was my only logical conclusion, even after finding other means to support my body and could find himself or others or reveal things in the body.
Hugo Nielsen had opened a new Institute in Bremen. Acupuncture was performed the first 2 days before surgery and during the whole course occupant of the whole process in the hospital 3 times a week. Throughout the chemotherapy cycle, I received 2 to 3 times week acupuncture. We have until now kept.
In the first days after surgery, I was very poor. Thinly arm does not work quite right. The food went back and forth and not backward. After a few days this problem was also solved and so did well to be healthy again.
In July was then implants a Port System to chemotherapy in my right side. There followed 12 Chemotherapy with the drug Folfax IV.
After the first chemotherapy my body reacted with severe nausea and tingling in hands and feet. From the 3rd chemotherapy was the dose lowered to 80%. This dose was better for me and was tolerated until the 12th chemotherapy was finished. After the 4th chemotherapy was deterioration in your blood, which I with 1 litre Taheebo daily was able to keep so stable that chemotherapy without pause could be implemented.
Investigations after 6 chemotherapy treatments with CT were made – without "that it was something". In January 2008, I received a follow-up chemotherapy. It has, I regained quite well. I could handle my sense of resolve hands and feet.
Nerve damage went up over the arms and thighs. There was a throwback to feel at the end of reading what has been expressed astonishment. On the other hand, there were doctors who had already spoken like this that I probably could not count on a complete regeneration of the nervous system.
I continue with Hugo Nielsens Acupuncture. At 12 months all studies, such as laboratories, ultrasound, CT and Coloscopia without result (usually). I hope now that I'm healthy. Tingling in hands and feet go very slowly further back and will be better. I have many more things with troublesome low and I am glad that I have been so successful.
Elke Sommer
Bremen 5 Nov. 2008
Originalbericht Frau Elke Sommer
Im Juni 2007 wurde bei mir während einer Coloskopie ein Dickdarmtumor diagnostiziert. Da der Tumor im Colon transversum saß, erfolgte eine subtotale Colonresektion mit systematischer Lymphadenektomie ( pT3pM2 )9/29). Die OP fand vier Tage nach der Erstuntersuchung statt.
Da ich nach meiner Ausbildung zur MTA ( Röntgen, Labor und Zytologie ) nach der Geburt unseres 3. Kindes nicht mehr berufstätig sein konnte, habe ich mich der chinesischen Medizin zugewandt. Ich habe mich einige Jahre mit Akupressur, Tuina und Akupunktur befasst. Dann fand ich zum Jiu shin Jgutsu, eine japanische Methode, die mit Energiepunkten auf den Leitbahnen arbeitet.
Deshalb war es für mich bei meinem Befund nur logisch, auch nach anderen Möglichkeiten der Unterstützung für meinen Körper zu suchen. Hugo Nielsen hatte in Bremen ein Institut eröffnet. Die erste Akupunktur wurde 2 Tage vor der OP gemacht und während der gesamten Zeit im Krankenhaus 3x pro Woche durchgeführt. Während der gesamten Chemotherapie hatte ich 2 – 3x eine Akupunktur pro Woche. Das wird bis jetzt beibehalten.
In den ersten Tagen nach der OP erholte ich mich sehr schlecht. Der Dünndarm arbeitete nicht so recht. Die Speisen wanderten hin und her und nicht abwärts. Nach einigen Tagen war auch dieses Problem gelöst und nun ging es mit der Erholung gut voran.
Im Juli erfolgte dann die Implantation eines Portsystems rechts. Anschließend folgten 12 Kurse adjuvante Chemotherapie nach Folfax IV. Nach der ersten Chemotherapie reagierte mein Körper mit Übelkeit und starkem Kribbeln in den Händen und Füßen. Ab der 3. Chemotherapie Absenkung der Dosis auf 8o%. Diese Dosis war für mich besser verträglich und wurde bis zum 12. Kurs beibehalten.
Nach der 4. Chemotherapie trat eine Verschlechterung der Blutwerte ein, die ich mit Lapacho täglich 1 Liter so stabil halten konnte, dass die Chemotherapie ohne Pause in einem Durchgang durchgeführt wurde. Die Untersuchungen nach der 6. Chemotherapie und auch das CT am Ende der abgeschlossenen Therapie waren jeweils ohne Befund.
Im Jan. 08 erfolgte eine Anschlussheilbehandlung. Dort habe ich mich ganz gut erholt. Ich konnte mit meinen tauben Händen und Beinen umgehen. Die Nervenbeeinträchtigungen gingen bis in die Oberarme und Oberschenkel. Ein Rückgang war am Ende der Behandlung zu spüren, worüber Erstaunen geäußert wurde. Auf der anderen Seite gab es Ärzte, die damals schon davon sprachen, dass ich wohl nicht mit einem vollständigen Rückgang rechnen könne.
Ich machte immer weiter bei Hugo Nielsen Akupunktur. Nach 12 Monaten waren alle Untersuchungen wie Labor, Ultraschall, CT und Coloskopie ohne Befund. Ich darf jetzt hoffen, dass ich gesund werde. Kribbeln in Händen und Füßen geht ganz langsam weiter zurück. Ich kann heute viele Dinge schon wieder mit viel Mühe tun, und ich bin froh, dass es mir schon so gelingt.
Elke Sommer
Bremen 5 Nov. 2008