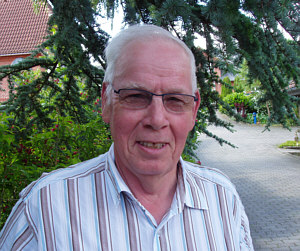 Every two weeks the sixty-seven year old former driver Sven Erik Christensen, Nim, Denmark, drives the ninety-four kilometres to The Hugo Nielsen Institute in Gram where he twenty years ago arrived with a very big struma. He only did it because of some articles I many years ago wrote in the Danish weekly "Hendes Verden".
Text: Journalist Bodil Moes
"It was my wife, Gudrun, who one day while we were eating across the table discovered the big lump on my neck, and gradually the struma, as it was, made it impossible to do anything without gasping for breath. As my wife had read what Hugo Nielsen was able to do to help other sick people we decided to go to Gram," Sven Erik Christensen says.
"That was twenty years ago and with a struma which has shrieked to invisibility I intend to continue, "driving to service" every two week. The first ten years I went there once a week which was then reduced to every two weeks."
A doctor's word about the treatment
Sven Erik Christensen went for regular check-ups at the hospital in Brædstrup where they know that he also goes to Gram.
"When last I got some new medicine the doctor said:
"Now you get something that will help you and what you believe in you can get in Gram!
" He gave me Thycapsol against "too high" metabolism and some other tablets Eltoxin against "too low" metabolism.
"I have the impression that what really matters is money to the medicine industry and that I have maybe no use for medicine against both too high and too low metabolism – on the same time."
"Acupuncture apparently gave me an extra gain when I once felt that something was wrong with my back. Hugo Nielsen told me, that it most likely was the kidneys, which had been involved, and for fifteen years I have been really fine. For instance I worked as a driver until I eight years ago retired on a pension.
"Then you will not have so much money," people told me but as I look upon it you are not stressed and have not the expense that is connected with a job.
That the big struma became invisible was however the best thing that has happened to me," says Sven Erik Christensen.
Nim, Denmark
June 26th June 2009
Last verified news: Have now been drug free in exactly 4 months now and have a cholesterol level of 4.2. I've never had it so good as now. Svend E. Christensen 7th September 2009th