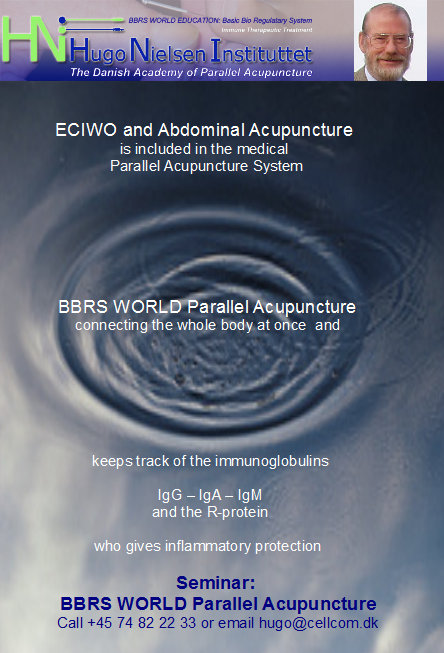 Europas specialakupunktører går sammen om nye fælles sundhedsveje for hele EU.
BBRS WORLD MEDICAL PARALLEL ACUPUNCTURE
BBRS står for: Basis Biologisk Regulerings System
Internationale specialuddannede akupunktører med i forvejen høj medicinsk uddannelse og erfaring – har erkendt, at "Hugo Nielsen Instituttets parallelakupunktur" er et suverænt behandlingssystem, derfor er BBRS WORLD PARALLEL ACUPUNCTURE nu en realitet.
BBRS WORLD ACUPUNCTURE 2012 er en dansk stiftet organisation af specialuddannede akupunktører med deltagelse fra Danmark, Norge, Tyskland, Holland og Belgien. Se også Institut TV.
Efter 1 års debat iblandt alle de af Hugo Nielsen specialuddannede akupunktører er man blevet enige om nødvendigheden af at kunne arbejde sammen over de europæiske grænser med et samlet fælles mål i stedet for nationale enheder. Det får betydning for, at nye behandlingstilbud og fremskridt kan igangsættes med få timers varsel, da alle basisbegreber og viden er ens hos alle behandlerne.
Som alle nok efterhånden er klar over, vinder akupunkturen kraftig frem i denne tid og de fleste er vel også velvidende om, at akupunkturen er til stor glæde og gavn for patienterne – samt prisbillig at udføre. Og det gælder i hele Europa uden undtagelse.
Videnskabelige rapporter om den effektive akupunktur vælter i disse timer frem verden over og giver entydigt udtryk for, at den ønskede effekt af akupunkturindsatsen er tilstede. Altså nyttig dokumenteret behandlingspleje til alle, der har behov. Og den har desværre mange flere behov for end vi har tal på. Vi skal have Europas befolkning ud af dets smertehelvede!
Mange patienter går stille med dørene og spiser smertestillende medicin, nærmest som bolcher, -hver dag, bare for at få dagligdagen til at hænge sammen. Dette er ikke et værdigt liv og har intet med livskvalitet at gøre. Her er akupunkturen det vigtige våben i hjælpen til disse mennesker. Og for Danmarks vedkommende kunne vi kigge lidt på vores arbejdsmarked der sluger tonsvis af sygedage, som ingen har glæde af.
Og netop her vil vi kaste vore øjne på Christiansborgs politikere og håbe på en absolut nødvendig forståelse for den hjælpende hånd, der skal gives for, at få dejlige Danmarks befolkning gjort smertefrie.
Jeg er næsten sikker på, at netop Danske Akupunktørers Faglige Sammenslutning allerede står klar til at strukturere indsatsen, der skal være tilstede for, at en sådan landsplan kan fuldføres. Her kunne Danmark blive et rigtigt godt foregangsland for hele EU's sundhedsudvikling på akupunkturområdet.
Danske Akupunktør Hugo Nielsen er ophavsmand til parallelakupunkturen. Parallelakupunkturen er et specialværktøj, der giver akupunktøren mulighed for en systematisk fremgangsmåde, både til at stille en aktuel behovsdiagnose og dermed, at finde den rette behandling rettet mod det "mål" der passer til patientens øjeblikkelige situation.
Og det har vist sig, at give overraskende resultater, der i særdeles mange tilfælde kan spores i løbet af relativt kort tid. Resultater der er lidt ud over det sædvanlige, som BBRS akupunktørerne selv giver udtryk for.
Denne fremgangsmåde er nu grundvidden for disse specialuddannede akupunktører under BBRS WORLD PARALLEL ACUPUNCTURE. Se også Institut TV.
Hugo Nielsen
Emails from BBRS acupuncturists:
The parallel acupuncture makes the difference:
I think BBRS Parallel Acupuncture is gone be the best working Acupuncture System ever seen in the world.
It works amazing fast and with very good results. Every patient of mine is more then happy with it and so do I. Greetings Ron Zoet ronzoet@planet.nl
16-102012 Dear Hugo,
Although there is a lot of study and practice to do, more and more results are marvelous!
My patients are impressed by the quick reactions they expire.
Thanks again for sharing your knowledge. With best regards, Marij
Email 10-10-2012 –
My Dear Hugo – Thanks for the ultimate experience. Of course I tested your newest point and to my surprise… it worked wonderwell! People don't want to laeve the couch for the exstatic mood the points created in them. I think its better than LSD…. This evening I have been invited to give a lecture on acupuncture for the "MS patientenverein".
With one MS- patient whom I have treated with Parallel there was a strong decrease of the plaque in her brain. She now doesn't use the walking stick anymore. Also a Parkinson patient, same story, is back again to his work. The trembling had decreased dramatically. Very happy to have met you Hugo.
Daniel Snijders
11-10-2012 – Dear Hugo, Thank you again for your course in Kaap Doorn this year. It is fantastic to see what BBRS Parallel Acupuncture can do with people and with their health. Paul van Alphen Netherlands
9-10-2012 – Dear Hugo, But what i like to say that the new system Works so much stronger.
Today i noticed with more patiënts that quicker than normal reactions do come. You can follow exacly the road that it takes. Where it doesn't move anymore but sticks, i can take than away by other points. Thanks again for sharing your lifework, Wilfred de Lorijn, Belgium
10-10-2012 – Dear Hugo, I've had learned a lot in the past weekend. Thank you very much that you spent much time for my patient. I appreciate very much that you pay also attention to the movement in TCM beyond your research.
The establishing of The World Organization of BBRS Parallel Acupuncture is a great pioneering.
I'm very proud that I am part of this. Best regards Hong Netherlands and Belgium.
Hello Hugo. Thank you for an intriguing weekend. All the best, Léon Gobert, Nederlands
Europe's special acupuncturists conspire new Health roads throughout the EU.